If there is a medical or life threatening emergency please contact 911!
If you are feeling isolated, disconnected and want some youth friendly tips on how to connect to peers, parents, and the community check out the website. The site is full of videos, poems, pictures, and tips from Colorado youth on what they are experiencing and some things that have helped them along the way. You are NOT alone!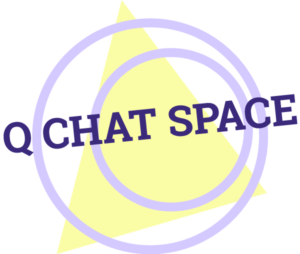 A Community for LGBTQ+ Teens
Are you LGBTQ+ or questioning? Between the ages of 13 and 19? This is a place you can be yourself and be accepted wherever you are in your life & identity. Inclusion is our motto.
LGBTQIA+ Resources
Learning Empowerment and Self-Identification
Misgendering and Respect for Pronouns
The Breakdown: Exploring Transphobia and Genderism
Authenticity and the Right to Tell Trans Narratives
These Trans and Gender Non-conforming Folks Share What They Need from Their Allies
What School Was Like for Black and Latinx Trans Adults – and How to Improve It for Youth Today
EmbarkPCA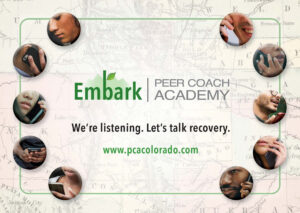 EmbarkPCA engages the Colorado Recovery Community by connecting a wide variety of events that fulfill the community's needs – from weekly meetings, to monthly trainings, as well as annual celebrations.
What We Believe:
People recover outside of treatment, so we need to extend recovery resources outside of treatment.
All individuals in or seeking recovery should be met where they are at
All individuals should be treated with dignity and respect
All individuals should have access to recovery support services to choose from

CONNECT WITH US

Please choose a method that works for you:
Text: 800-604-8978 (tel:+1-800-604-8978)
Email: info@pcacolorado.com (mailto:info@embarkpca.com?subject=EmbarkPCA%20website%20query)

Mailing Address:
1102 South 21st Street,
Colorado Springs, CO 80904
Phone: 800-604-8978 (tel:+1-800-604-8978)
Mental Health Resources

NAMI provides advocacy, education, support and public awareness so that all individuals and families affected by mental illness can build
better lives.
Class/Program
Dates
Location
Details & Registration
NAMI Connection
06/03/2021 – 06/03/2024
Meets In Person every Thursday. Must call the NAMI-CS office to reserve a space due to limited space available due to social distancing. 719-473-8477
Colorado Springs 80903
Details & Registration
NAMI Connection
NAMI Family Support Groups
Current as of 9/18/2022
See NAMI Colorado Springs's full program list.

Medical researchers have found close links between eye health and mental health. People with vision impairments often develop mental health problems like anxiety and depression because of the stress of living with their condition. People with mental health problems are also more likely to develop vision issues later in life. If you have vision problems, it is important to take care of your mental health as well.
Seeking help from your doctor, a counselor or an advocacy organization can help you manage the impact of your condition and protect your mental well-being.

You can learn more about this in the following guide: https://myvision.org/guides/mental-health/ (https://myvision.org/guides/mentalhealth/)
Teller County Mental Health Providers
Teller County Public Health and Environment in collaboration with the Teller County Mental Health Alliance has created, maintained, and vetted the following list of Mental Health Providers for the area. Check out the following list to connect with the right provider to assist with your mental health needs.
Teller County Mental Health Provider List
Family Resources
Community Partnership
Community Partnership Family Resource Center is an INVALUABLE local resource in Teller County. From GED classes to Gardening to basic needs, the team at CP is dedicated to providing a strengths-based, family-centered, community-based organizations that support families in a variety of areas that reflect local needs.
GED Preparation and Testing
Frameworks/Financial Health Institute
Parenting Workshops
Playgroups
Parents as Teachers
Cooking Matters
Grow your own veggies in our free Community Gardens!
Yoga
Food Pantry and Basic Needs Services

Learn more online: Community Partnership | Call: 719.686.0705 | Email: mailto:office@cpteller.org
Childcare- School Age Youth
Attention Parents and guardians! Looking for an After School Program for your school age youth? Look no further! For more info or questions check out the flyer below.
Aspen Mine Center
The Aspen Mine Center, of better known to locals as the AMC, is located in Cripple Creek. This one stop resource houses everything from counseling, to DHS support, to clothing, food commodities, and more. As they put it they are "An Open Door. A Helping Hand. A Listening Ear. An Answer to a Need."
Visit their site: Aspen Mine Center | Call: 719.686.0705 | Email: mailto:office@cpteller.org
Healthcare Resources
Gorman Medical, P.C. in Cripple!
Colorado Community Health Access (CCHA)
For young people and families there is access available to medical and behavioral health resources when necessary or unexpected situations arise. Colorado Community Health Alliance or CCHA is such a resource. CCHA's overall goal is to support a coordinated, patient centered model of care to better serve the needs of Health First Colorado members, improve health and life outcomes, and optimize
resources in an effort to avoid duplication of services and reduce the costs of care.
We're here to help!

Call us or fill out our contact form (https://www.cchacares.com/contact) and we'll connect you with the right resource.

If you need to request disability accommodations or accessibility, please complete our contact form or contact Member & Provider Support
Services.

Standard Hours of Operation
Monday – Friday, 8A to 5P

Member & Provider Support Services
Region 7: El Paso, Teller, & Park Counties
Local: 719-598-1540
Callers with hearing or speech disabilities: 711 (TTY)
Take action today…
to make sure Health First Colorado (Colorado's Medicaid Program) has your current phone number, email and mailing address. It is important that you can get letters about your Health First Colorado coverage.
Don't miss any important updates. You can update your information in any of these ways:
• Visit Colorado.gov/PEAK
• Use the Health First Colorado app on your
phone – this free app is for Health First
Colorado members and is available in the
App Store or Google Play. Learn more at
Healthfirstcolorado.com/mobileapp.
• Contact your county department of human
services at cdhs.colorado.gov/our-partners/
counties/contact-your-county-human-services-department
Teller County Public Health & Environment
TCPHE has many services and programs to aid community members to lead healthy lives For more information on the services they provide check out the links below with everything from the WIC program, COVID-19 vaccines, immunizations, women's health and more!
Services provided are funded by tax dollars, individual state and private grants applied for based on community needs. Here are a few of the services available to Teller County residents. To find the most up to date programs please call or visit their site.

Family Planning Clinic
Healthy Communities
Immunizations
Women's Health
Teller County Mental Health Providers
Teller County Prescription Drug Profile
Women, Infants and Children Program (WIC)
Family Doctor
A good resource to reach out to about your health is your family doctor. They know your family history and can help direct you to the right specialist to assist with your health concerns. If you don't have a family doctor and looking to connect with a healthcare professional and do not have insurance contact CCHA (above) to get you started on the path to finding the right professional.

Locally, you can contact the Aspen Mine Center to get you connected with the Medicaid Health Navigator Program, 719.687.3584 OR contact Teller County Department of Human Services, 719.687.3335.